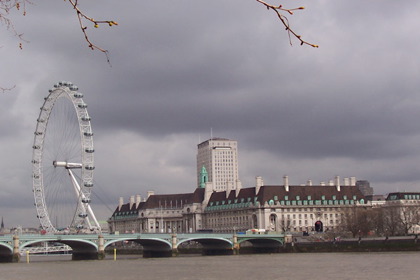 I know I've already posted about how much I loved London, but I've been going through my photos (I'm slightly click happy so there are 1600 of them) and now I like it even more. I didn't even have to try. The one above this post looks painted, to me anyway. I didn't have to edit it at all except for an obvious resize.
I really enjoyed photographing the city, although my greatest frustration during my trip was my malfunctioning camera. It seems to have a problem with battery life. When I say problem, I mean it. Sometimes a new set of batteries would not work at all, other times they would last maybe thirty minutes before my camera would quit. I eventually figured out that by taking them in and out and rotating them, I could squeeze out a few pictures at a time, but sometimes even that wouldn't work though. I still managed to get quite a few though, although I spent more than I'll admit on batteries.
I liked to think that I was observant of the world around me before I started photographing everything, but the camera makes you pay attention to the most overlooked items. Even my campus is much more interesting than I had previously thought. My friends have started teasing me because of the weird things I take pictures of, but after seeing one of my better ones, they seem really amazed at how the plainest things can be so interesting. I think that's cool.
Still, but this is just a random thought, what if I take this hobby seriously and find that I have true talent for it? I mean, friends have been wanting to commission me for their businesses' promotional materials. Who knows, maybe someday I'd get to see my work featured in magazines or in one of those Miami display board rentals (or New York!). That's a long shot for now, but anything can happen, right?
Posted by ryan on March 28, 2005